Tuesday, March 17, 2009

With all due respect
to the fabled accomplishments
of one Saint Patrick
whom we "honor"
supposedly, today,
while drinking green beer
and acting like
barstool fixtures
and foul-mouthed
humanoid cotton swabs
imbibés à l'alcohol...
that happen to be wearing green
for this occasion only!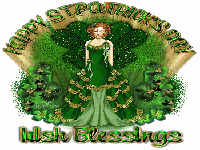 Lady Irish
says "hi"...?
Sheesh!
Who...?!?
(In green blazes -
I have to presume!)
The shamrock
may not be a sham
but it sure doesn't rock
either!
But I'm digressing -
again!

I think the saint
that loves not just the Irish
but anyone who loves God,
does not take much pride
in these festivities
that bear his name -
he has that in common
with the following saints:
Nicholas...
Valentine...
Sylvestre...

But I digress;
for this is NOT
an edition of
"Saints & Angels:
The TLB Prime Series"

Rather,
it is an addendum
to my series of posts
about LUMINOUS
PERSPECTIVE - indeed!

Hence, here it goes...!

This week,
I am light years away
from being in a "festive mood"
- only, not in the sense
that you may imagine!
I am festive -
the luminous way!
It shall be three years
to the day -
but three days,
in the spiritual realm,
the true reality,
that my Dad joined
that side of Things;
The Right Side
and The Light.
+++


No wonder
I prefer to think
of a saint that is
near and dear
and my patron saint
and protector
EXCLUSIVELY -
for not you,
not anyone else,
much less the Vatican
know how much of a saint
he was... and is!
I get to know it
and benefit from it
all by myself
(well, not counting
my luminous readers here
of course!)
and I would be mad
to prefer St-Patrick
or any other saint
to the one I knew
during his pilgrimage
here on Earth:
St-Joao Jacinto!

This is his week -
his week of ASCENSION!
The third anniversary of which
is nearly upon us...
I can only use
the age-old phrase
in those parts
that Dad adopted as home
to AN EXCELLENT USE
(at long last!)
Je me souviens
+++



Feel free
to be green with envy
enemies o'mine!




And on days like this,
henceforth,
I simply have to suggest that
instead of going with the crowd
you pause and think for a second -
IF IT WAS YOUR NAME,
ON A FESTIVE DAY...
WOULD YOU LIKE IT TO BE A DAY
THAT RESEMBLES YOU TRULY
OR FOR IT TO BE
SIMPLY SOME VAGUE,
ALL-TOGETHER HOLLOW EXCUSE
FOR BEER CONSUMPTION?


I thought so too.


Honor the saint now -
send a
Crosscard
there's still time!
Or do as I say
and not as I do;
and postdate it!
;)
+++
Labels: commemorative, Luminous Connections, santo
Link