Saturday, July 29, 2006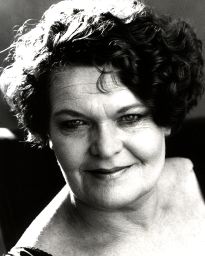 Look into the eyes of this woman - there is much for each and every single of you to learn from this woman. Much wisdom, patience, graciousness, elegance and, against all odds, serenity lie in there, deep within these eyes and this soul - the soul of Canadian thespian Janet Wright.
She has lost her dear sister, equally-renowned actress Susan Wright, who died in a house fire several years ago. In that same fire, both of the sisters' parents died also. More recently, it was Janet's own daughter who, at only twenty-three years of age, was shot to death in Vancouver. She had tried to stop several hoodlums from beating up on a single victim - and these miscreants pulled out their guns then, killing both the twenty-three year-old angel and her companion, on top of their intended victim...
Despite all the tragedy in her life, Janet Wright perseveres. She still acts, she still performs, whether on television or on stage. She still lives and so she remains true to herself, to her "obligations" in a sense, but what it is, truly, is that she remains true to her PASSION. And, in doing so, she remains true to those who loved her and have departed prematurely - true to their memory, honoring it, in a sense, with each given performance.
A documentary I caught recently, titled OPEN YOUR EYES, talked about brushes with death, tragedies - and the fact that these make one realize with greater lucid perception all the good things that life comprises, things that another will take for granted and completely miss out on... There were filmmakers, actors and other creative minds -all fellow countrymen of Miss Wright- who had all the same thing to say, in essence, on the subject matter: death is ever present and we can be ever conscious of that. But, while we are here, we have the duty, both to ourselves as to others, to be all that we are - fully so and in conformnity to God's Plan for us! He Put us here on this planet for a reason - we have but to decipher that tiny portion of the Plan where we are concerned and fulfill it - completely - as Jesus Himself Did - while we are here. No two "subjects" have the same "mission" or allotted time either - so comparaisons are futile. We often see so many die young; and we lament "they were too young to die". With closer inspection, we will likely find out that their lives' mission had been fulfilled already and, sometimes, it was through their deaths that they succeeded in doing so. Many deaths have a positive effect on their immediate surroundings; families come together after such tragedies, friends pull together, with common sorrow and grief... Attitudes change - laws get amended. Criminals are put away for good - when, otherwise, they would have continued to make more victims, unpunished.
I believe that Janet Wright is a firm believer in two things: what goes around comes around - and we shall not cry for those who have departed. They are well - and the best way to react to their departure is to live
for them
- as they would have lived. As they would have wanted
you
to go on living.
Blessings.
Link
Friday, July 28, 2006
Thursday, July 27, 2006
Wednesday, July 26, 2006
Tuesday, July 25, 2006
Monday, July 24, 2006
Sunday, July 23, 2006