Wednesday, August 16, 2006
Here's hoping that they will all display their full radiance - in other words, their animated magical grace!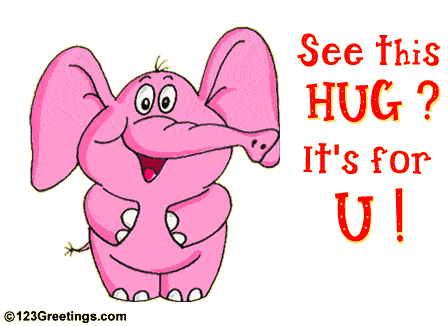 Yes - we all need pink elephants in our lives. Pink Flamingos too...
"These gifs are mighty cool - don't mind if I pry... mate!"



Mind you, I am not a fan of Darwin by any stretch of the imagination (nor did I particularly like that Tim Burton remake featuring the execrable Mark Wahlberg and Tim Roth... hey, this gif image does look a lot like Roth, in full make-up, too! But I digress...)
A thumbs up sign was in order though - don't you agree?
Link
Comments:
Wow, those are some really cool images! I saved them all. Thanks for sharing them with us.
hmmm That primate doing the thumbs up is a Chimpanzee!! Not a Gorilla as the image is named. Whoever named that image at that has the photobucket site it came from, doesn't know there apes!
Awesome image though!!
I like the phrase you put below it!
"These gifs are mighty cool - don't mind if I pry... mate!"
Definately the right images at the right time.
((HUGE HUGS))
God Bless You (\ô/)
Countess
Oh well - I am not discriminating as to where exactly I find my gif images...!!!
As long as they come virus-free...!
6 out of 7 are showing without problems - that is not bad! Not bad at all!
:)
Post a Comment
<< Home